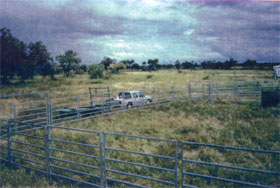 Black River portable yards can be moved by trailer or truck.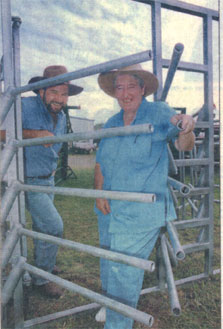 David and Margaret Heferen with a spear trap.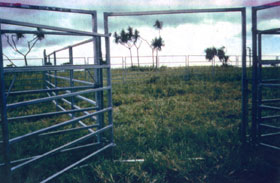 The yards can be erected and dismantled quickly.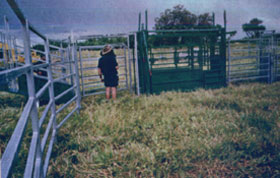 Spear traps
keep cattle
in place

Adapted from an article by John Andersen

CATTLE-HANDLING equipment manufacturer Margaret Heferen, of Townsville, has ridden the industry roller-coaster through good times and hard times.

The Black River Cattle Equipment company has stamped its name on stations across northern Australia and in feedlots through Malaysia, Indonesia, Brunei and the Philippines.

The equipment is shipped as deck cargo on live export ships sailing to many South-East Asian ports..

The cattle equipment industry is a hard one and Mrs Heferen knows that to stay on top you have to keep on your toes.

She said spear traps, a system of spears which allow or alternatively stop cattle from leaving an area, were making a comeback.

In the old days, spear traps were more likely to be made from sharpened saplings, rather than the galvanised pipe now in use on properties.

Mrs Heferen said the upsurge in demand for spear traps had come from the fact that more people were incorporating laneway systems into their property management plans.

"The idea is to spear the animals into the lane or into a nearby holding paddock. They can then be walked to yards.

"What happens more often now is portable yards and a loading ramp are trucked in. The cattle are processed and trucked out.

"You have to try to come up with new ideas all of the time."


For more of the Black River story, see: Panels.